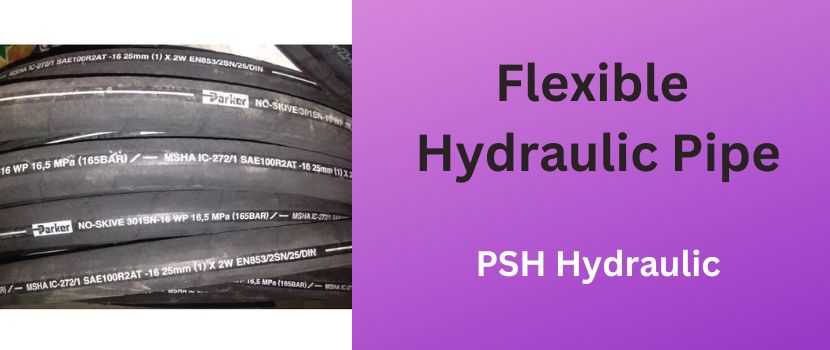 To move energy-generating liquid between various components and create a hydraulic circuit, rigid or rigidly shaped pipes or tubes are frequently utilised in hydraulic systems. To bridge small gaps in a regulated fashion, pipes and tubes may be stiff.
For the manufacture and usage of flexible hydraulic pipes, several standards exist. Standards regulate hose materials, industrial connection criteria, and installation procedures.
What Purpose do Hydraulic Pipes Serve?
Any part of a hydraulic system where a flexible connection is needed between two liquid ports uses a hydraulic hose. A hydraulic hose is a tube made of synthetic rubber that has been wrapped in a flexible wrapping that increases strength, typically made of metal or fibre, and then covered with yet another rubber carcass.
The hose's flexibility and strength are provided by the reinforcement windings, which can either be spiral-wrapped or braided.
What Are the Composites of Hydraulic Pipes?
Elastomers, silicone, fluoropolymers, thermosets, metal, and hybrid or laminated constructions are the materials most frequently used to make hydraulic hoses. Hydraulic hoses may essentially be manufactured of any material.
Hydraulic hoses made of rubber or elastomeric material are noted for their flexibility. Hose made of fluoropolymer is more resistant to corrosion and chemicals, has a longer lifespan, and can withstand high temperatures.
Thermoplastic hydraulic hoses provide strong kink resistance and small minimum bend radii. Metal hoses, which can be rigid or flexible, can endure extreme temperatures and pressure flows.
Flexible hoses are simpler to install and route, allow for movement between components, attenuate pressure noise and vibration, and reduce noise and vibration.
Hydraulic Pipe Applications
In any situation where a flexible connection is needed between two fluid ports in a hydraulic system, hydraulic hoses are used. Hydraulic systems that link two ports give hydraulic fluid to the machine component, giving it the energy it needs to function.
A hydraulic hose is often used for one of two major functions. It is employed to facilitate movement between two port sites or to lessen the influence of vibration. Additionally, it can be utilised to make hose production equipment easier to install or accessible. The hose's flexibility makes it simple to line up with ports that have been altered and are not perfectly aligned.
When employing a hydraulic pipe for its primary function of connecting ports on two moving components, the suppleness must be sufficiently obtained to bend to permit the elements to move correctly, as seen between an excavator's jib and boom arms.
The flexibility of the hose is determined by the pressure rating, the number of reinforcing windings, the material used in its manufacture, and its diameter. Hoses are employed for this specific purpose and are attached to mobile work tools like hydraulic presses, cable carriers, automation, injection moulding machines, or tractor implements.
Conclusion
Since flexible hydraulic pipes commonly work at high or extremely high pressures, they are normally flexible, frequently reinforced, and typically designed with numerous layers of reinforcement.
Numerous industrial hydraulic systems use the hydraulic hose. When looking for a hydraulic hose, it's crucial to keep dimensions, performance requirements, construction options, and features in mind.